Onychomycosis Market: Industry Analysis, Epidemiology, Symptoms, Treatment, Pipeline Therapies and Key Companies by DelveInsight |Moberg Pharma, Blueberry Therapeutics, Mycovia Pharmaceuticals, etc
DelveInsight's Onychomycosis Market Insights Report offers a detailed analysis of Disease, its causes, symptoms, diagnostics modalities, and treatment options.
The report also offers comprehensive insights into Onychomycosis market size, epidemiology, emerging therapies, market drivers, market barriers, ongoing Onychomycosis clinical trials, collaboration in the space, and key pharmaceutical companies actively pushing the growth of Onychomycosis market size forward in the 7MM [US, EU5(Germany, France, the United Kingdom, Spain, and Italy) and Japan].
Some of the key highlights from the Onychomycosis Market Insights:
As per Delveinsight, Onychomycosis Market was estimated to be USD 3842.6 million in 2017.
In 2017, Onychomycosis's prevalent population in the United States was found to be 35,829,110.
Spain reported the least number of prevalent cases in the 7MM.
As per Delveinsight's estimates, the total prevalent cases for Onychomycosis were highest in the United States, followed by Japan & France.
MOB-015 (Moberg Pharma), which is expected to launch during the forecast period (2020–2030), is anticipated to be the most promising therapy amongst all the other desired drug candidates.
According to DelveInsight's analysis, no gender bias was observed in the case of Onychomycosis.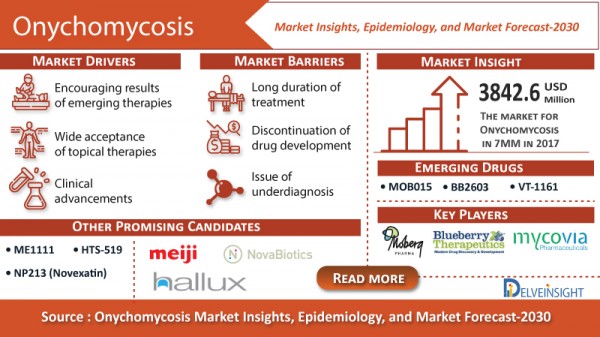 Request for free Sample Page: https://www.delveinsight.com/sample-request/onychomycosis-market
Onychomycosis Disease Overview:
Onychomycosis, the most common fungal nail infection that has been evaluated to account for about half of all nail diseases. It causes discoloration and thickening of the affected nail. Onychomycosis was initially believed to be caused predominantly by dermatophytes; however, new studies have unveiled that mixed infections & those caused by nondermatophyte molds are more prevalent than previously thought, especially in warmer climates.
Although not life-threatening, fungal nail infections are significant public health concerns due to their high prevalence, inadequate response to therapy & significant clinical, social and financial impact.
Onychomycosis Symptoms:
Symptoms include yellow or white nail discoloration, separation of the nail from the nail bed, thickening of the nail, Dry or scaly skin around the nail, Foul smell, Etc.
Request for free Sample Page: https://www.delveinsight.com/sample-request/onychomycosis-market
Onychomycosis Epidemiology Segmentation
The Onychomycosis Market report proffers epidemiological analysis for the study period 2017-30 in the 7MM segmented into:
Onychomycosis Prevalence
Severity Specific Onychomycosis Prevalence
Diagnosed and Treatable Cases of Onychomycosis
Onychomycosis Pipeline Therapies and Key Companies
Moberg Pharma: MOB-015
Blueberry Therapeutics: BB2603
Mycovia Pharmaceuticals: VT-1161
Bausch Health: Jublia//Clenafin (efinaconazole)
Pfizer: Kerydin (tavaborole)
Sato Pharmaceutical/Bausch Health: Luliconazole
Sato Pharmaceutical/ Eisai: Nialin
Meiji Seika Pharma: ME111
NovaBiotics: NP213 (Novexatin)
Halllux: HTS-519
And Many Others
Scope of the Report
11 Years Forecast
7MM Coverage
Descriptive overview of Onychomycosis, covering causes, signs and symptoms, pathophysiology, diagnosis, and currently available therapies
Comprehensive insight into Onychomycosis epidemiology and treatment in the 7MM
Current and emerging therapies for Onychomycosis
Onychomycosis market drivers and barriers
Table of Contents
| | |
| --- | --- |
| 1 | Key Insights |
| 2 | Report Introduction |
| 3 | Competitive Intelligence Analysis for Onychomycosis |
| 4 | Onychomycosis Market Overview at a Glance |
| 5 | Executive Summary of Onychomycosis |
| 6 | Onychomycosis Epidemiology and Market Methodology |
| 7 | Onychomycosis Epidemiology and Patient Population |
| 8 | Onychomycosis Patient Journey |
| 9 | Treatment Algorithm, Current Treatment, and Medical Practices |
| 10 | Key Endpoints in Onychomycosis Clinical Trials |
| 11 | Onychomycosis Marketed Therapies |
| 12 | Onychomycosis Emerging Therapies |
| 13 | Onychomycosis: 7 Major Market Analysis |
| 14 | Attribute analysis |
| 15 | Access and Reimbursement Overview of Onychomycosis |
| 16 | KOL Reviews |
| 17 | Case Reports |
| 18 | Onychomycosis Market Drivers |
| 19 | Onychomycosis Market Barriers |
| 20 | SWOT Analysis |
| 21 | Disclaimer |
| 21 | DelveInsight Capabilities |
| 22 | About DelveInsight |
Learn more about the report offerings @ https://www.delveinsight.com/sample-request/onychomycosis-market
About DelveInsight
DelveInsight is a leading Market Research & Business Consultant focused purely on life sciences. It helps pharma companies by providing them with end-to-end services to boost their performance.
Get access to all the Pharma & healthcare market research reports through our market research subscription-based platform PharmDelve.
Media Contact
Company Name: DelveInsight Business Research LLP
Contact Person: Ankit Nigam
Email: Send Email
Phone: +19193216187
Address:304 S. Jones Blvd #2432
City: Albany
State: New York
Country: United States
Website: https://www.delveinsight.com/report-store/onychomycosis-market